Sem Caricature 1913: Felix Mayol dancing with Dramen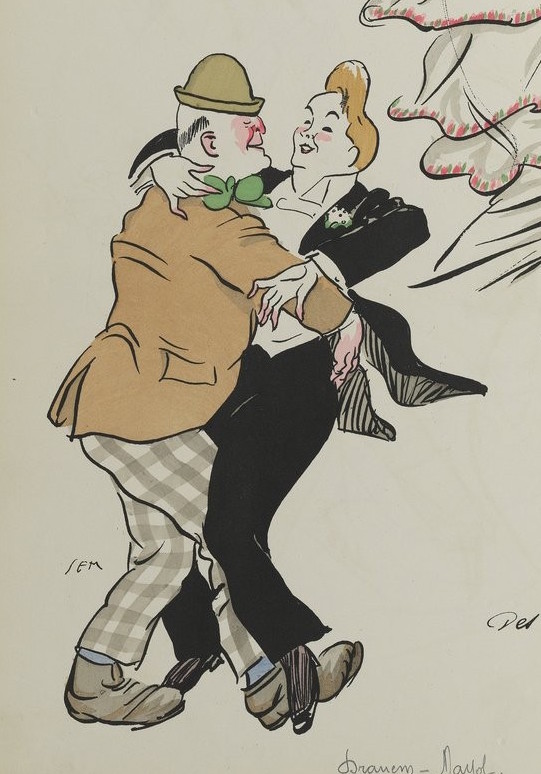 Ray Batchelor writes:
"The caricaturist, Georges Gousat, better known as "Sem", was famous for savagely satirising French society. In 1913, he published Tangoville sur Mer, a book of cartoons based on what he saw (or what he imagined) while on a trip to the fashionable resort at Deauville. In among the famous figures shown dancing tango were three same-sex couples including this one: the famously camp music hall artist, Felix Mayol evidently enjoying having the leg of the equally famous, more robust, music hall star, Armand Dramen thrust between his own. Dramen appears to lead, drawing Mayol towards him and taking pleasure in doing so.
For an exceptional insight into just how camp Mayol was, watch this extraordinary 1906 Photoscene film clip – with sound! – made by Alice Guy-Blaché: https://www.youtube.com/watch?v=DLoMLERiL0A
The image shown here is a detail from a page which also included another same-sex couple, Madame d'Artex dancing with Lise Radoline (see image 0000081).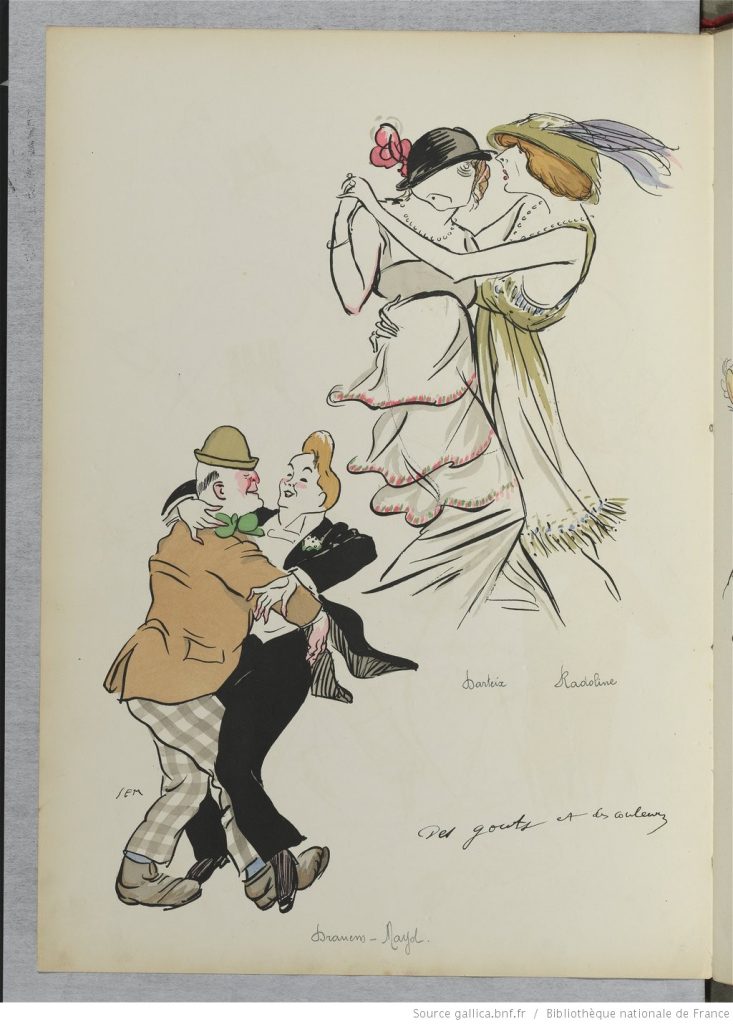 It is in striking contrast to the savagery of his depiction of Nijinsky and Gabreil Astruc tangoing in the same volume, in that it appears good humoured.
The complete book can be downloaded here: http://gallica.bnf.fr/ark:/12148/btv1b52501948b/f1.image "
What do you believe the copyright status of this image to be?
Ray Batchelor believes: "The image is out of copyright."
The image url:
http://gallica.bnf.fr/ark:/12148/btv1b52501948b/f14.image