1890s Soldados bailando en la fortaleza del cerro de Montevideo.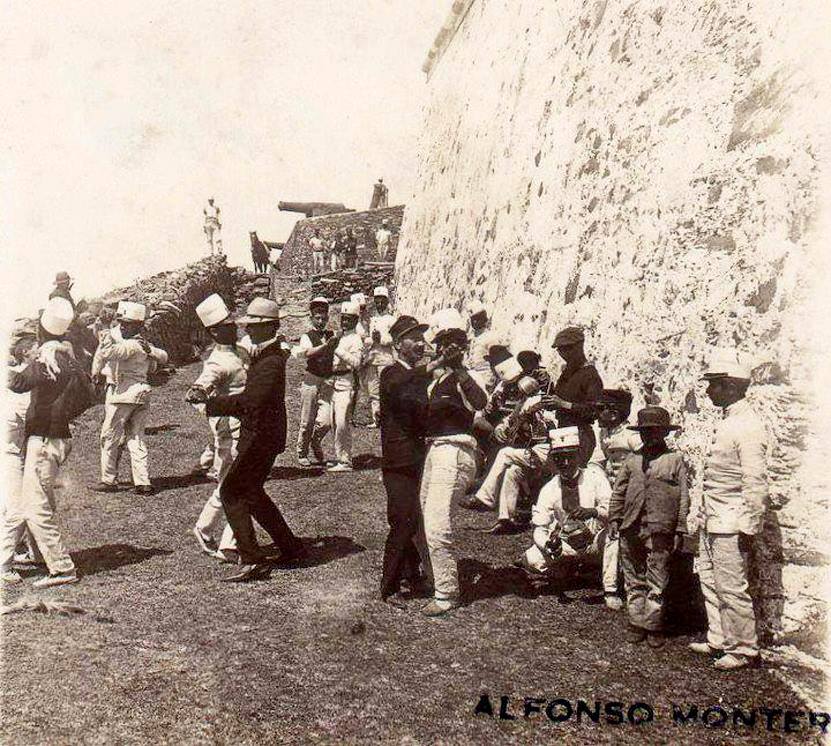 Gonzalo Collazo writes:
52
"Circa 1890 – 1905, Montevideo. Reservists or soldiers dancing tango on one side of the Fortress of the Cerro de Montevideo. Grisel Alassio Collection.

When we founded the group Tango Queer Uruguay in 2010 we decided to find photos of old tango where at least appears one same-sex couple dancing tango. Unfortunately the first Internet search yielded no results. This is the first picture that comes to us in March 2015 after a fact of discrimination where people seniors sprayed with insults to two young women who wanted to dance in a milonga that is done for many years in a public square the center of Montevideo. The protagonists were a teacher and great dancer of our media and one of his students. The fact took on political significance and social networks called for a "Milonga inapropiada" to the following weekend as a protest. The hectic activity of social networks about this incident allowed us to find this photo we share hereby. Grisel Alassio Collection.
Cuando fundamos el grupo Tango queer Uruguay en 2010 decidimos buscar fotos de tango antiguas donde aparezca por lo menos una pareja del mismo sexo bailando tango. Lamentablemente las primeras búsquedas en internet no arrojaron ningún resultado. Esta es la primer foto que llega a nosotros en marzo de 2015 cuando luego de un hecho de discriminación donde personas de la tercera edad hecharon con insultos a dos mujeres jóvenes que quisieron bailar en una milonga que se realiza desde hace muchos años en una plaza pública del centro de Montevideo. Las protagonistas fueron una profesora y gran bailarina de nuestro medio y una de sus alumnas. El hecho cobró trascendencia política, por las redes sociales se convocó a una "Milonga Inadecuada" a la semana siguiente como forma de protesta. La agitada actividad de las redes sociales sobre este hecho nos permitió encontrar esta foto que compartimos por este medio. Grisel Alassio Collection."
What do you belive the copyright status of this image to be?
Gonzalo Collazo believes: "The image is out of copyright."
The image url:
https://www.facebook.com/800965816663929/photos/a.800965883330589.1073741828.800965816663929/800972193329958/?type=3&theater