About us
What is The Queer Tango Image Archive?
The Queer Tango Image Archive is a digital collection of historical, pre-1995, images relating to the themes and issues touched on by queer tango (for a fuller account of what these are, go to 'What is Queer Tango?') It was founded following discussions in March 2015 in Montevideo, Uruguay, between Gonzalo Collazo and Ray Batchelor from London, UK, both of whom donated extensive collections of the imagery which features in the collections.
In 2014, Ray Batchelor gave a paper, 'Uncovering the Histories and Pre-Histories of Queer Tango' at the Society of Dance History Scholars Conference in Iowa, USA, setting out some of the ideas which inform The Queer Tango Image Archive. The Queer Tango Image Archive is supported by The Queer Tango Project founded by Birthe Havmøller, who designed and built the website.
The Archive went public in March 2016.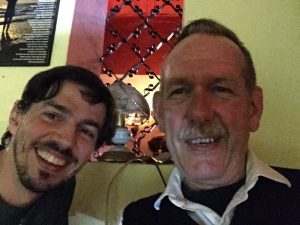 Gonzalo Collazo, LGBT activist, teacher of tango, physics academic, and founder of Tango Queer Uruguay said, "We wanted The Archive to provide a resource for anyone interested in tango and queer tango alike. We wanted these images to stimulate fresh thinking about how to set queer tango into historical, social, political and other contexts. We see The Archive as part of queer tango's dynamic evolution."
For the first year of its life, Gonzalo Collazo and Ray Batchelor shared the curatorial responsibilities, until in February 2017, Gonzalo Collazo stepped down from his formal curatorial role. He continues to support the aspirations of the Archive, however. Ray Batchelor became sole Curator of The Archive on behalf of The Queer Tango Project.
The Queer Tango Image Archive is a not-for-profit organisation.
What do we do?
We provide a virtual space where these historical images can be seen in one place, surrounded by comments from image Donors, from Visitors to the website and from ourselves.
Although most of the images in the Archive after the preliminary setting up exercise have been identified and posted by Ray Batchelor, we very much welcome donations from others (contact Batchelor by email).
Initially, we reproduce unaltered the information and opinions we find from the image sources or elsewhere with comments or interpretation, as appropriate. We revise and re-edit the information as new insights come to light including from Visitors to The Gallery.
In this informal, collaborative way we hope that inaccuracies (which may themselves be interesting) can be identified and a clearer sense of each image's significances emerge. We are wholly comfortable with the idea that the same image may be open to a variety of interpretations, and for some of these interpretations to be contradictory or mutually exclusive.
Queer Tango is a 21st century phenomenon partly set up in opposition to historical tango gender norms. In that sense these images do not show 'The History of Queer Tango', but relate to a time before it was even conceived of. And yet they show that gender relations in tango were often more complex, more varied and much more interesting than the 'man dominating a woman' model of popular imagination. To that extent, they illuminate many of the key themes which not only animate 21st century queer tango, but mainstream tango, too.
Please submit your images, using the link, or contact us  if you have any further information or opinions about what you see in The Gallery, and please, share a link to The Queer Tango Image Archive with anyone you think will be interested.
Studying images from the past makes us think again about how and why we dance tango – queer, or not – today.
Dr Ray Batchelor
9th February 2017