Popeye [almost] Tangos with Bluto, 1934 [still taken from cartoon]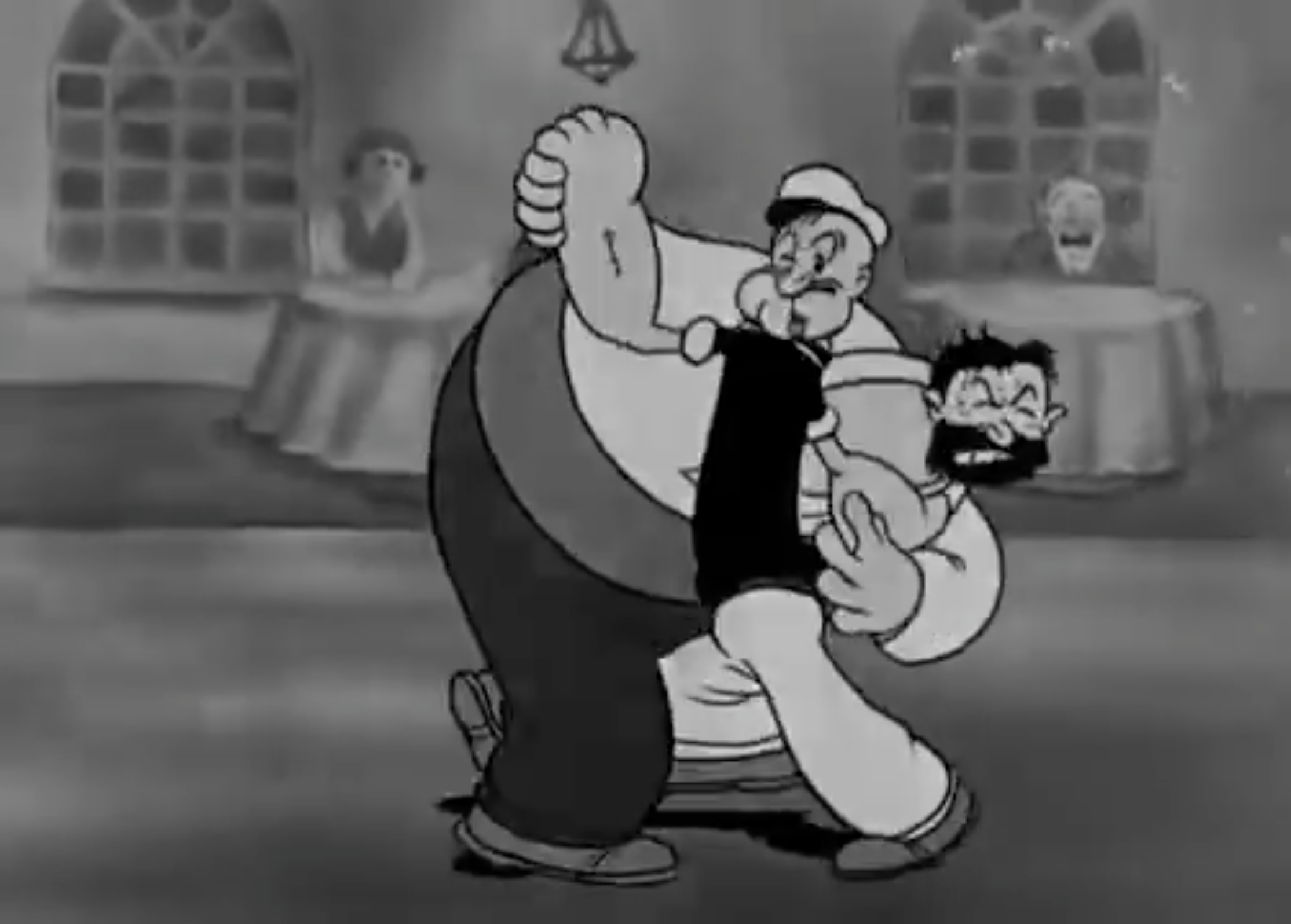 Ray Batchelor writes:
"Still taken from "Popeye The Sailor Man-Episode No.016 (The Dance Contest) (1934)" found on YouTube, 19th January 2017.
Men can dance with each other – as long as long they fight!
Popeye tangos with Bluto, 1934 [link to their dance – below]
I am researching a paper about historical cartoons of men dancing tango with each other. Why is it [supposed to be] funny? What is being attacked?
Here, Popeye dances an "Apache Dance" (related to the tango) with Bluto. Bluto has just executed a particularly violent dance throwing Olive Oyl around and so enraging Popeye. They fight – Popeye suitably pumped up on spinach – as if dancing tango.
Premise: men do not, should not dance together – so that's why it's "funny".
Popeye is actually fighting for Olive Oyl's [heterosexual] affection and Bluto is so groggy from Popeye's punches he has no choice.
In both cases, virility is preserved!
See also 00090 "Film clip: [Intercambio] Apache Dance in Popeye the Sailor Morning, Noon and Night Club 1937"
"Popeye The Sailor Man-Episode No.016 (The Dance Contest) (1934)" – and if you watch the whole cartoon, "Dancing with the Stars" (US) or "Strictly Come Dancing" fans might note Wimpy's neat way of eliminating losing couples…
Dance competitions were notoriously tough as shown in Sydney Pollack's 1969 film "They Shoot Horses, Don't They?".
This is a link to clip where they dance 5minutes and 20 seconds into it:
What do you believe the copyright status of this image to be?
Ray Batchelor believes: "The image is out of copyright."