Women Tango Couple Postcards by Suzanne Meunier, c1917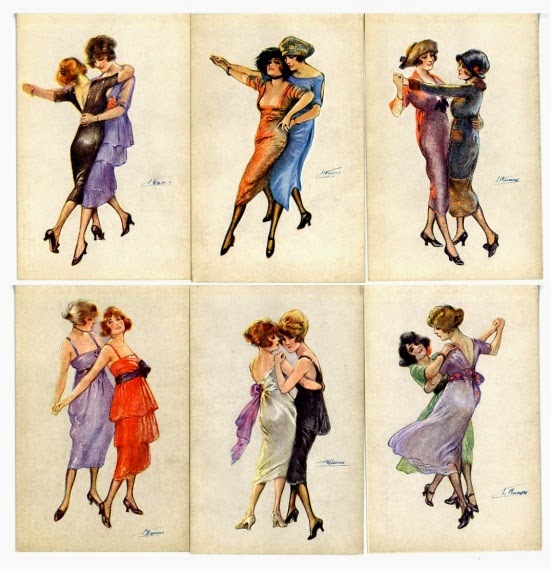 Ray Batchelor writes:
"At the source of this image it says: "Women in various Tango postures.  A postcard set by Suzanne Meunier, around 1930."
I am going to guess at some date between 1915-1919.
I can only find an image like this of the whole set online, not the individual cards.
From French Wikipedia https://fr.wikipedia.org/wiki/Suzanne_Meunier pushed through Google Translate, with tweaks:
"Suzanne Meunier-Point, born Suzanne Marie Alia Meunier-Pouthot July 5, 1888 to Suresnes1 and died May 5, 1979 (90 years) in the 17th arrondissement of Paris2, is a painter, French illustrator and printmaker known for her illustrations the pin-up genre.
With Vala Moro, mysterious Austrian artist of the 1930s and the Danish Gerda Wegener, Suzanne Meunier is one of the few women painters to have produced images of "scantily clad young ladies" in a market largely dominated by male artists middle .
Her early compositions under the name "Suzanne Meunier" appeared in France in 1914 in the weekly foolish Pages, then in 1917 Le Sourire contained "petites femmes de guerre" godmothers soldiers, then in 1918 in "La Vie Parisienne" and "Fantasio" in a boudoir style and then, from 1922 "Eros", "a monthly publication of physical art" published by the Library of printmaking Antonin Reschal (actually a reprint of 1914). In 1923, "The Strand Magazine" devoted pages to her in its Christmas issue."
The images bear examination, not least because, while they may approach the "lesbians for the male gaze" semi-pornographic stereotype, the women are respectably, even fashionably dressed and they were created by a woman. I have found out almost nothing about her, save that much of her work was, indeed, semi-pornographic, or should that be erotic? Certainly, there was amarket for such materials as other examples from "La Vie Parisienne" demonstrate. Is it wreckless to wonder ask why "Suzanne Meunier" chose to spend her career making erotic imagery of other women?"
What do you belive the copyright status of this image to be?
Ray Batchelor believes: "The image is out of copyright."
The image url:
https://photos.google.com/share/AF1QipPcWG_mux1zKWwpivxGH3bVJGuBo9HKj7dRow_x14-sfWoTyS5zbu5hGGZBu_IvfA?key=UzVZS2JVME1jY2NidVdfVFgwRkRGWUZxTklCSVd